This week was SURE a challenge.  Due to the fact that I have a SO MANY images in orchards, the task of choosing a favorite was almost impossible… I live in Georgia for goodness sakes! Berry, pumpkin, apple, peaches, blueberry… you name it, we got it!  I have lots of favorites, but you never know what will speak to others.
So I thought it would just be appropriate to make it easy on myself and choose one from my latest shots of my girls when we went apple picking at Hillcrest Orchards. Appropriate because it will be a sneaky peeky of what's to come for when I launch my new and improved blogsite later next week!
Yay!  I'm so excited. Long overdue.
I made it harder on myself anyway by going back and forth between this and an oldie, but goodie of my baby picking blueberries at one of the orchards we go to.  I remember wanting so badly to enter it for the "blue" challenge way back when and missed it. So I'm throwing caution and blueberries to the wind and going with apples anyway.  You can never have enough apples, right?  ;)  An apple a day… that blueberry photo must be meant for just the right challenge, 'cause it's good.  I hope I don't regret this.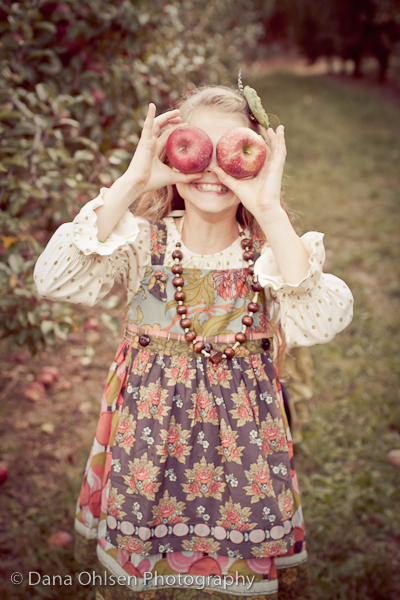 I'm usually a straight up clean processing gal using my own techniques and style, but just for fun I thought I'd try a warm orchard tone feel for this using one of Totally Rad's new Lightroom Preset freebies called Crystal Ship|Medium.
What do you think?
Go check out other fun orchard themed shots at iheartfaces and come back and hang out with me later if you'd like to see more of the fun APPLE ORCHARD shots of my girlies!  There were even pig races!  Suuuuey!  ;)