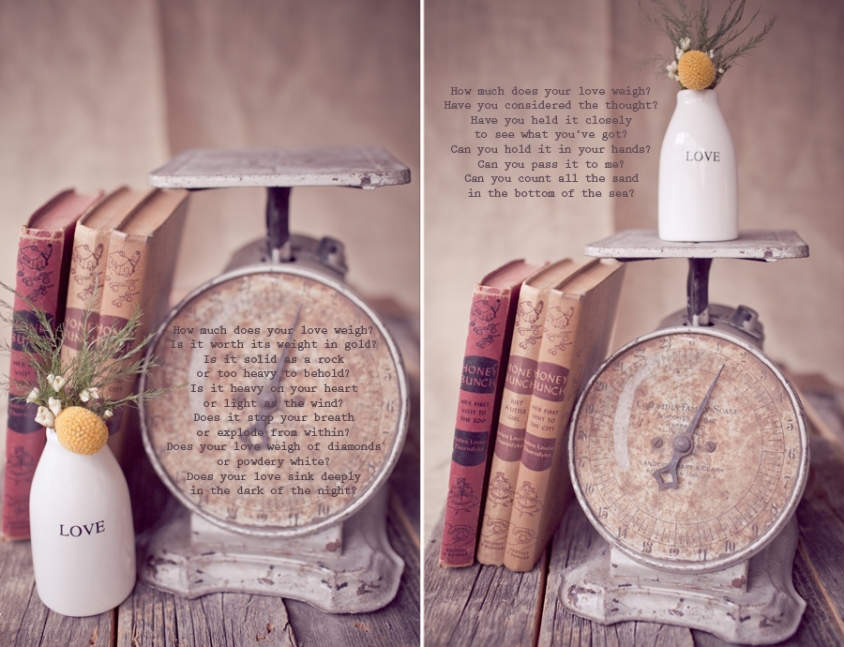 Note from ME:  I had every good intention of getting this out early yesterday… ON Valentine's Day, but alas I had to bring a sick lovey home from school.  My time was spent with her, not my blog.  So even though it's late, I'm still posting. 
Hope you don't mind, I hope you don't mind…(just had an Elton John moment)
and hope you enjoy.  😉
I was away for several days last weekend in Junc Town, Colorado for a Matt and Katie Photographers workshop.
(stay tuned for a post on my trip…)
Although I could spend every waking hour hanging out with MK and the hostess with the mostest, Jami, the
love and missing of my daughters weighed heavily on my heart.
The kind of heavy that renders you breathless.
Don't get me wrong, I enjoyed EVERY second of my mommy time, but they
were never far from my thoughts.
Luckily, people not too shy to share the weight of their love, surrounded me.
Matt & Katie and Jami gave it freely…
in HEAPS.
So much, in fact, that I felt loved like family.
So much, in fact, that I miss them like family.
So much, in fact, that I am touched for good.
And as much as I loved each best day evah that came, I am delighted
beyond measure to have my sweet loves back in my arms.
At the airport, and after being greeted properly by my Mister, first thing I did
was suck face with my little Katie Pie.
I nuzzied (that's what we call nuzzling) her neck, practically ate off her cheeks, and took in
deep, long breaths of her sweet goodness.
Thank goodness my big girls still don't mind all the mush, because
they were next in line for the same treatment.
Ahhhhh… bliss
So today is Gooey Hearts Day.
And although I could be stressed after a long trip and time difference, I am content.
For the first time in my life I actually prepared ahead!  😉
Before I left for the trip, I made little bags for them to enjoy.
Filled with a darling antique book, a bud vase, chocolate of course, conversation hearts, special tights, and a cute and simple homemade t-shirt to wear on the special day.
I thought this morning of what my jet-lagged body could do last minute to make this day
a bit more special, having been out of town and not on my game.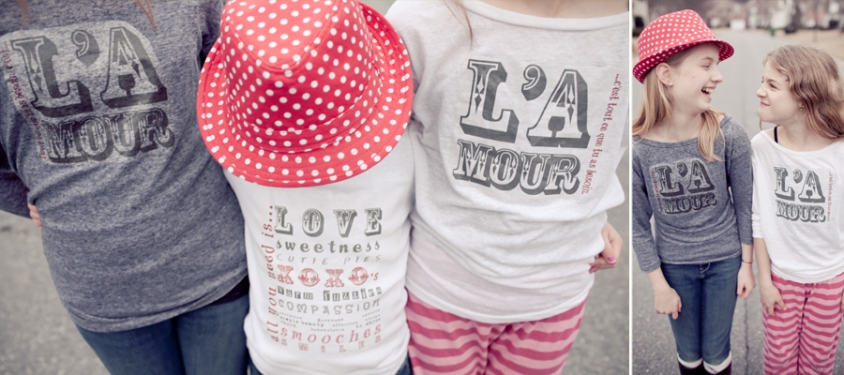 Here are a couple of quick & easy, last minute DIY's I did today for those of you in my procrastinating shoes:
1.  I designed Warm Fuzzies Valentine's Day cards for my lovies with handmade Warm Fuzzies.
2.  I printed out a bingo game via simply fresh designs (via my Pinterest),  to play with them after school
(also used for 1st grade class party that morning).
3.  The cute Gooey Heart's Day shirts I made my girlie birds before I left for Colorado.  My two big girls wore shirts in French.
The gray shirt says, "all you need is love"  and the white one says, "love is all you need."
(Freebie coming soon)
Since they are lovers of all things french, they were seriously in love with the shirts.  Mommy points-Woohoo!
4.  I made my version of some whipped cream hearts for their afternoon hot cocoa-DIY below!
(Inspired by this and this from Pinterest)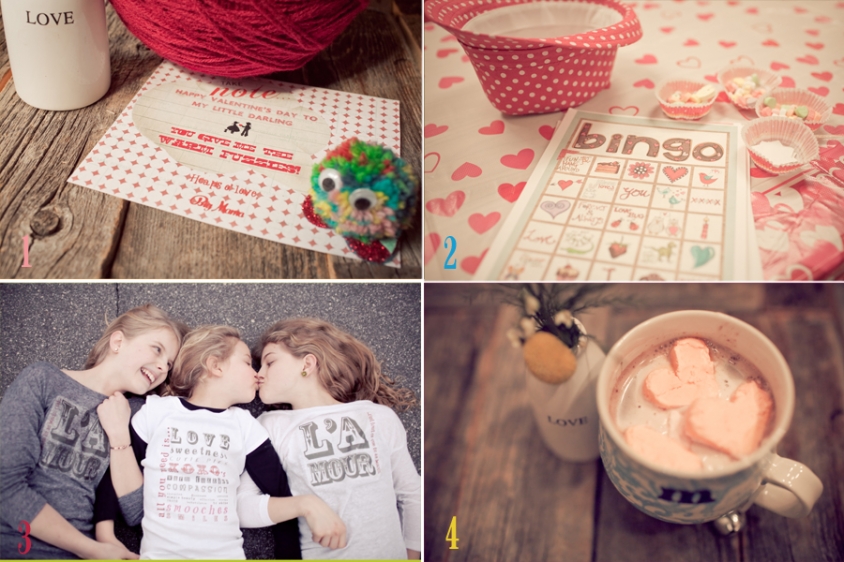 If I would have had time before, I was going to sew on some
easy sew t-shirt fabric roses or some chiffon flowers.
If you have a second, run to your local craft store for iron transfer paper and have at it!
It is SOOO easy with great results!
Get ready for the compliments.
Here's two (of MANY) of our favorite Valentine's Day reading:
Ooey Gooey Whipped Creamy Hot Cocoa Hearts
 Note:  I like my cream a little on the, how should I say, cream tasting side, so I use a light hand with the added ingredients.  Do it to taste.  Okay, so one of the links uses Cool Whip, which you may do if you feel so inclined.  But I always have heavy whipping cream on hand and ALWAYS use homemade over store bought.  There is no comparison.  I know, I know.  I too was one of those girls that ate Cool Whip by the spoonful, like ice cream, when I was a kid, but seriously.
Ain't nothing like the real thang baby!!!!!

1.  Make your fave version of homemade whipped cream.
In place of confectioner's sugar, I used decorator's red sugar (like sprinkles). This makes it sweet and pink at the same time. Feel free to use a little red food coloring if that's all you have on hand, but make sure to add powdered sugar too for taste.
(I usually use heavy whipping cream, a wee bit of confectioner's sugar and a little vanilla)

2.  Spread pink/red whipped cream into glass cake pan or smaller, depending on how much you made. I only had less than a half of a carton of whipping cream, so I used small glass pans. My silicone heart shaped muffin pan was packed up or I would have used it. Place in freezer (approximately 3 hours).

3.   When it is time for hot cocoa, remove pans from freezer and cut with small heart shaped cookie cutter.  Use right away or cut out and place back in freezer for later.
4.  Place a few hearts in hot cocoa and ENJOY! I liked a few hearts floating on top, but one large heart would be adorbs too!
Happy Ooey-Gooey Heart's Day…
Show your loved ones the weight of your love today!!! 😉
Lots of gooey love,
Dana