The fall season is not just about autumnal colors anymore.  Nope.
 Everywhere you go there is a splash of pink in between Halloween and Christmas displays and on a plethora of products and windows.
And for good reason.
Breast cancer is the most common cancer among American women, except for skin cancers. About 1 in 8 (12%) women in the US will develop invasive breast cancer during their lifetime.  At this time there are more than 2.8 million breast cancer survivors in the United States. (This includes women still being treated and those who have completed treatment.)  Risk factors are determined by age group. From your 30's to turning 40 your risk factor goes from 1 in 228 to 1 in 69.  That's a big jump!  If your current age is 40, the probability of developing invasive breast cancer in the next 10 years is 1.45%, or 1 in 69.  This link on the Breast Cancer.org site explains your risks of developing breast cancer.  It doesn't seem quite as scary when you see it broken down this way, but it is a good visual for the importance of yearly mammograms.
After having my 8th friend diagnosed with breast cancer a few months ago (not counting the 4 others with other forms of cancer), this statistic doesn't seem so accurate for me. To personally know so many young vibrant women who have become victims to this horrendous disease is mind boggling.  People joke about there being something in the water, but it is really no joke. October's Breast Cancer Awareness month is even more at the forefront of my mind.
Those pink ribbon's are beacons of hope, true beauty, strength, courage, celebration, and remembrance!
My recently diagnosed friend, Shanda, asked all of her friends as a gift to her, to get their mammograms. She felt strongly about it since the cancer in her breast had formed aggressively from her last yearly Mammo. Her message is don't procrastinate! Any thought of "putting it off" or "a few more months won't hurt" and she could have been in dire straits.  I had my annual check-up with my doctor mid summer before we heard of Shanda's diagnosis. At that visit my doctor asked me if I wanted to make an appointment for my mammogram. I chuckled a little as the reality set in that I was coming of age. Oh snap. I was still about 6 months out from my 40th birthday and didn't feel the need to rush into that milestone and into what I have heard to be an unpleasant experience. But after hearing of Shanda's request, I felt compelled to make an appointment for my first mammogram and making it an annual tradition for the month of October. Those pink ribbons symbolize many things, but research shows that cause driven marketing does act as a reminder to women to be more proactive with their breast health, especially by getting annual mammograms.  And so does the personal experience we have with loved ones who have battled and are battling.
I had the honor of going to chemo with Shanda last week and was even more determined to do what I can to spread awareness and support for my #pinkwarriors!  There were so many sick bodies in there, but the room permeated more with strong and courageous souls! We even got to hear the bell ring! Have you heard of that tradition?  When someone finishes their treatment they get to ring a big bell loud and long for all to hear!  Gave me chills!  So, in honor of my sweet "breasties" and "bosom friends" Shanda, Brittany, Laura, Donna, Kitty, Lady Di, Maria, Jessica, Mama Jo, Jaime, Keri, and my sweet Anne, I wanted to share my experience with my very first Mammogram. I'm breaking it down for all of those who have heard through the grape, or uh, MELON vine (see what I did there?) that mammograms are not fun.
They are not that bad and are absolutely worth the time and "pressure"!  Do it!
5 Easy Steps To A Good Mammogram Experience:
Step 1: Make an appointment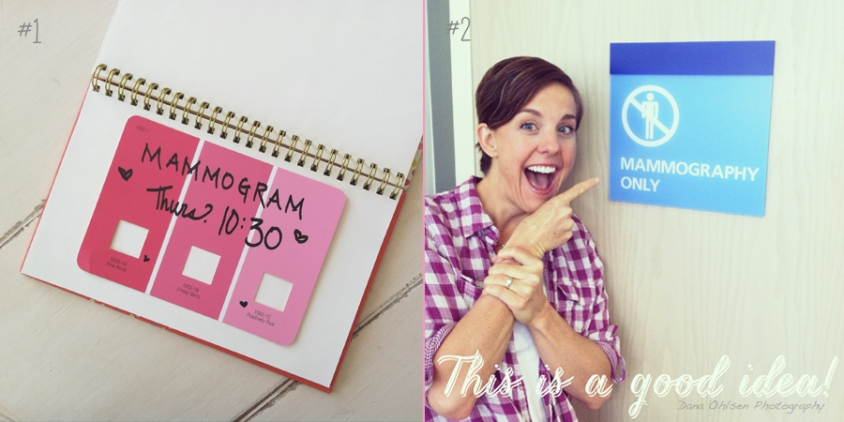 All I needed to get started was the number of our imaging lab from my doctor and I could call in and make an appointment on my own. I called on a Tuesday and got in on Thursday.
Easy peasy.  Done. Take a deep breath.
Step 2: Go to your appointment!
I walked in and checked in with the front desk. Since I was already in their system, I didn't have to fill anything out to make it more nerve racking. Filling out forms is not my favorite thing! During my 5-minute wait, I overheard an older lady telling her friend, "I HATE mammograms!" And boy her "hate" had a bite to it. I chuckled and said, "just what I wanted to hear before my first mammo." She laughed. Apparently she was tired of them because she has very "fibrous" breast tissue and often has to redo the imaging. I don't blame her for her being totally "over it" at her age, but it amused me.
Breathe and smile.
Step 3: Come on down!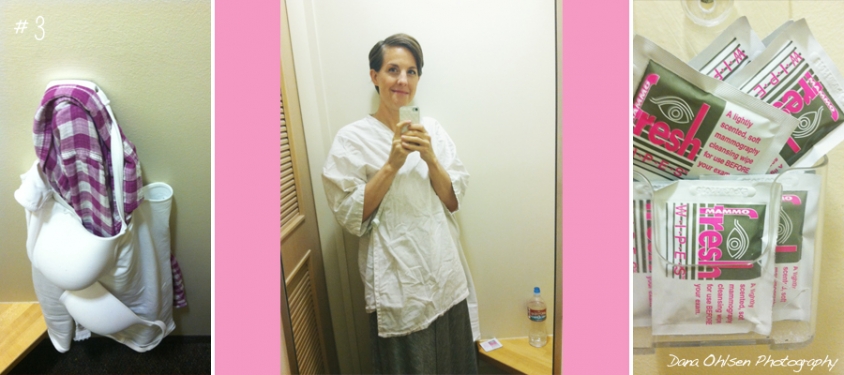 The technician brought me from the waiting area to the imaging lounge through a door clearly marked with a "no men allowed" sign. Ha! Sorry Mister. Through the door was what looked like a dressing room area in a clothing store with 6 rooms for changing. I was instructed to undress completely from the waist up and put on a gown that opens in the front. There was a hook for my clothes, a mirror and a container with special mammo wipes for cleansing my underarm areas and around the breasts to remove any lotions, oils, or powders. I was told when I made my appt to not where any of these things, so I was prepared and showered right before my appt. But I used one anyway, just for insurance because nerves make me sweat. Okay, and because I wanted the full experience!
Step 4: Exam Room #2 please! "My girls" and me get our picture taken!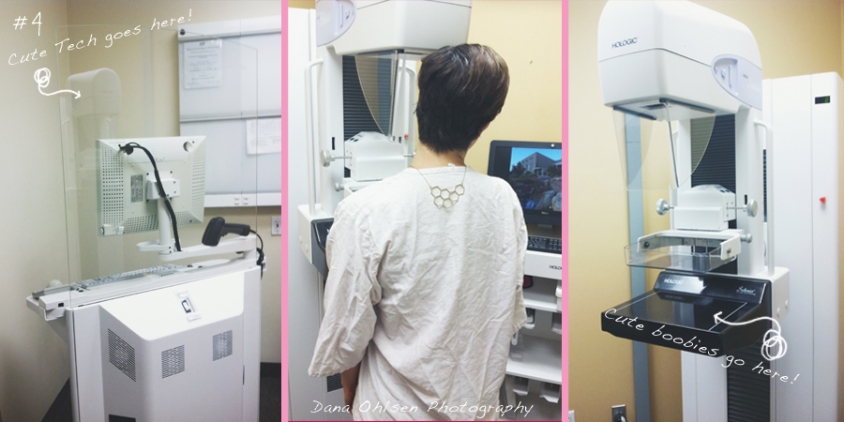 Breathe.  I was breathing easy at this point because my tech had done a great job at making me feel comfortable. The exam room is about the size of a small walk-in closet. Just enough room for a sink and counter area, 2 large machines, a chair, and a small computer desk., but big enough to feel comfortable. My cute pink-sneakered technician was a lot of fun to talk to.  As a matter of fact I was so into asking her questions and chatting that I barely had time to get nervous about the process. We were done before I even had time to get too freaked out!
The machine moves up and down for different heights. She took 2 frontal images of each breast and 2 images from the side of each breast. For the frontal images I stood straight ahead facing the machine and she did all of the work gently scooping a girl at a time onto a thick metal plate and compressing it between that and a clear acrylic like plate that comes down. Kind of like this:

Thank you to my friend Collette, who's mama is a breast cancer survivor, for showing me these!
Keeping a sense of humor is great medicine for the soul!
For the side images I turned more sideways and the machine turned some as well. I lifted my arm to hold onto that silver handle and the device squished my girls again.  This gets a better pic of the areas near the armpit and lymph nodes.
At one point I told her that all I'd ever heard of Mammos was negative and that it hurts and is uncomfortable, but I wasn't having that experience at all. She explained that experiences can differ from boob to boob depending on your size, weight, shape, whether you have implants, etc… Our differences are what make this world beautiful!!!  For example, women with implants may need more scans taken since it's harder to see the breast tissue which could be a little more painful.  But don't stress!  It doesn't last very long!  My Tech said, "we love doughy breasts" so I was proud of my girls for doing their job (breastfeeding – boom). 😉 My pizza dough balls and Me didn't have a problem. So if you've been known to complain about your flank steaks, tube socks, water balloons, dough balls, fruit roll ups, arm pit hiders, be happy that a mammo should be a breeze. For those who haven't had children, have implants, are fibrous or lumpy-bumpy, or have young firm breasts, you will have to let us know of your experience pain wise. Mine was zero. I'm a size D-. The minus is for the empty sacks of som'm som'm they really are.
On my way out I noticed the "pasties" on the wall and asked if I got a sticker for being so good. I mean, who doesn't still love a sticker for a job well done at the doc's office?!  The tech said they were for those with irregular nipples, large moles, or other irregularities to communicate with the doc that will read the images. It tells them different things to be aware of. So if you have any of that you will get to wear pretty stickers for your pictures! Woohoo! Mammo perk! We had a good laugh as she recalled the story of an old lady that came in and told the tech how she forgot to take her "pasties" off when she got home and later as they were dressing for bed her hubs saw them. The tech said well what did he say and she said, "Oh well, he liked them…" Ahem.
Mammo perk #2!!!

STEP 5: Wait for your results
Unless they need more images, you will receive a call in a day or two from your doctor stating your results and a letter in about a week. I got a call the very next day from my doctor's office telling me my girls looked perfect! What a relief! It is very common for first time "baseline" images to get called back for a recheck, so don't panic! If you are a worrier or tend to be impatient about these things, I would make your appointment for the beginning of the week so your images are being processed on business days and not waiting through a weekend.
So here is the most interesting thing I learned that day, only 16-20% of breast cancer patients have a family history of breast cancer. I was floored! I try to stay pretty informed about a lot of things, but this was a misconception for me. That number is so low and leaves a very large percentage of us out there free game for that wicked cancer to take hold of our girls! Without any warning or history!  Wow. I told my tech about my friend who was 35 with no family history and the epitome of health… marathon runner. She said, "oh, yes I know her." I told her this was my friend in Georgia not here, which means it was just another young woman facing the cryptic disease with no warning and no rhyme or reason at all. Cancer doesn't discriminate. We are all fair game for the enemy. Even men. This year, an estimated 2,360 men in the United States will be diagnosed with breast cancer and an estimated 430 men will die of breast cancer.
I asked if sugar can cause cancer and she said glucose can feed cancer like it does all cells in our body, but does not "cause" it.  She said it's still not fully known and that estrogen is the true feeder of breast cancer. I found these statements on some medical sites, "There is some evidence that consuming large amounts of sugar is associated with an increased risk of certain cancers, including esophageal cancer. It can also lead to weight gain and increase the risk of obesity and diabetes, which may increase the risk of cancer… It's what sugar does to your waistline that can lead to cancer."  I think the jury might still be out.
So here is my challenge that I'm shouting out to all you ladies in the house:
GO GET YOUR MAMMOGRAM!!!
You know your situation and if you are behind, overdue, have family history, etc… remember, Shanda went exactly a year apart and it had grown that fast.
And to all the ladies in my graduating class (HOLLA Class of '93)… we are all turning the big 4-0 within the next year, so get on it! Don't delay. Do it for fellow classmate Jessica!
We all think it won't happen to us. I'm not so sure anymore. So I can be proactive with my breast health and overall body health.
Breast health=
1. Monthly  Breast self-exams (BSE) If you notice any concerns or changes in your breasts, you should contact your doctor immediately.
2. Clinical Breast exam (CBE) about every 3 years for women in their 20's and 30's and every year for women 40 and over,
3. Yearly mammograms starting at the age of 40 and continuing for as long as a woman is in good health.
4.  Loving them just the way they are!  What you see on TV doesn't matter.  Your mental health, confidence, and love for your self and then others, does!!!
Let's just sum it up this way: I would much rather go get a mammogram than go to the dentist any day.  Fo-realz!
Now breathe.  And smile.  You have a lot of control over what happens to you.
You can do it!  GET THOSE GIRLS SQUISHED FOR YOUR HEALTH!
HAPPY MAMMOGRAMMING!
XOOX,
Dana
P.S.
My friend Courtney from the eclectic lifestyle blog Fry Sauce & Grits started a movement called LOVE YOUR BOOBS, LOVE YOURSELF. Courtney is a bra fitter, bra educator, blogger, and is passionate about women issues. She created a video where she interviewed a group of women and asked them questions about their relationship with their breasts, how they've experienced breast shame, how they feel the media depicts breasts, and how we as women can come to love and accept and love our breasts.   I wanted to participate because it is just another layer of the #braveandbeautiful movement we started.
Hair, breasts, eyes, teeth, thighs… it's all what makes you beautifully you!



"I find that most women have a hate relationship with their breasts and that makes me really sad. They're either small, large, lopsided, saggy, or too wide, and it made me realize that we need to stop this breast and body shaming because our bodies are beautiful and powerful," Courtney said. "I hope to inspire women with this Love Your Boobs, Love Yourself video that to completely love ourselves as women, we need to love and accept our boobs. There's a direct relationship between our self image of and the relationship we have with our breasts. Breasts don't define us but they are definitely a part of us. I want to bring awareness that this dysfunctional relationship we as women have with our breasts and with our bodies are directly stemmed from what the media portrays to be what is perfect and the ideal of beauty. I want to push the message that we aren't defined by our breast size and how we as women are defined by something greater."


Me along with a group of other blogging women from different backgrounds, religions, ethnicities, ages, shapes and yes breast sizes have decided to come together and to love ourselves and our breasts! You can join in this movement too by sharing a picture of yourself and type what you love about your breasts and what defines you as a woman! You don't need a blog either! Just tag your photo with #LoveYourBoobsLoveYourself on Instagram, Twitter, Facebook and search the hashtag to see who else has joined in.
So go ahead and watch this fantastic video, where a few smart women will truly inspire you to stop breast shaming and start loving your breasts and yourself more!
Below are other brave and beautiful women who are sharing their stories of breast shame, breast love, what they've learned from their breasts, what they mean to them, and how we as women we can learn to love our breasts and ourselves more! So get clicking around, its a blog hop! I hope as you click around (and YES pin these different posts!) you will feel the importance of women loving themselves, the empowering effect sharing each of our voices will inspire others in some way.
1. Fry Sauce & Grits 2.Allred Design 3. Ashlee Marie 4. Lucky Blogs 5. A Ruffled Life 6. Feel Great in 8 7. Tara Made It 8.Dreaming About Someday 9. MOMentity 10. Dana Ohlsen Photography 11. Life in My Heels 12. Diary of a Brown Eyed Girl  13. Utah Mom Connection 14. Lionesses at the Gate 15. Laura's Crafty Life